Modibodi have made a name for themselves for their famous "Period Undies" and have now launched a new range of swimwear that promises to prevent leaks, fight odour and give you back your beach confidence during summer.
They have used their exclusive hi-tech and innovative patent-pending Modifier Swim Technology and built it into the gusset of the swimsuit.
They come in two designs, two-piece and one-piece. I was sent a one-piece style to trial for the purpose of the review, and here are my thoughts.
Black – Good.
No need to mess around with patterns and colours that date, stick with the classic and also make sure it's not see-through!
Style – Bang on-trend.
It's fairly high-cut without compromising one's dignity, it's still a side vag free zone here people. This is a good thing. Especially since my lasered minge decided to regrow after two pregnancies. I cannot guarantee a spiders-leg free zone if we take a beach date together. I'll try, but I'm a busy woman.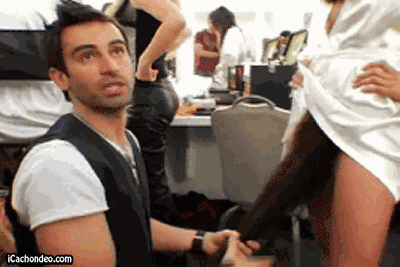 Function – Could very well be shark proof.
Ok, so I cannot guarantee it is shark proof, nothing really is. Except maybe a cage, and I'm not sure they are even 100% shark proof either. But this suit will keep things together and contained should you be free-bleeding into the high-tech fabric, or simply using it as a backup for leaks. Yes, that includes leaks of the pee variety.
Tech Specs – Holds up to 10ml of Liquid.
That's 1.5 tampons or two teaspoons of fluid. Impressive. Recommended for light/medium flow. For Texas Chainsaw situations, you are going to want some back-up.
Extra Bonus Points – Camel Toe Free Fun!
Anything that has extra layers in the vag region is going to reduce the chance of a camel toe. End of. This is a good thing. A very, very, good thing.
Think of The Children – No More Embarrassment.
Younger girls will be able to say yes to the beach or the pool and not sit on the sidelines because they have their period and are not yet ready for tampons. YASSS.
The Verdict?
Women young and old will love the double strap design which means you can easily move from beach to bar or cafe because it doubles as a bodysuit.
Size wise I feel these fit a little small, but I have HUGE size F Boobs. I took a size 14 and I would usually be in a 12 (I tried both). I removed the pads from the boob area which made it a better fit, but I am probably somewhere in between sizes for my body type (not unusual!).
There is an elasticised support shelf in the swimwear but no underwire. Think of it more like a sexy Speedo style. And please consult the size chart before purchasing.
And, enjoy!
Love, FK xxxx
Modibodi are offering 20% off with the code CYBER20
(excludes bundle packs, gift cards and clearance stock).
Full disclosure. This post contains affiliate links giving me a small kickback on sales which comes at no cost to you. Opinions are all my own.